Boston Workplace Accident Lawyer
Were you or a loved one injured at work in Boston, MA? You may be able to recover compensation through workers' compensation or from a negligent third party. A Boston workplace accident lawyer at Sweeney Merrigan Law, LLP can fight to maximize your financial recovery. 
Since we were founded more than a decade ago, we've dedicated our practice to securing meaningful compensation for injured clients. We've recovered tens of millions of dollars in favorable settlements and verdicts to date.
Your first consultation is free, so don't hesitate to call our law offices at (617)-391-9001, or connect with us online today.
How Sweeney Merrigan Law, LLP Can Help After a Workplace Accident in Boston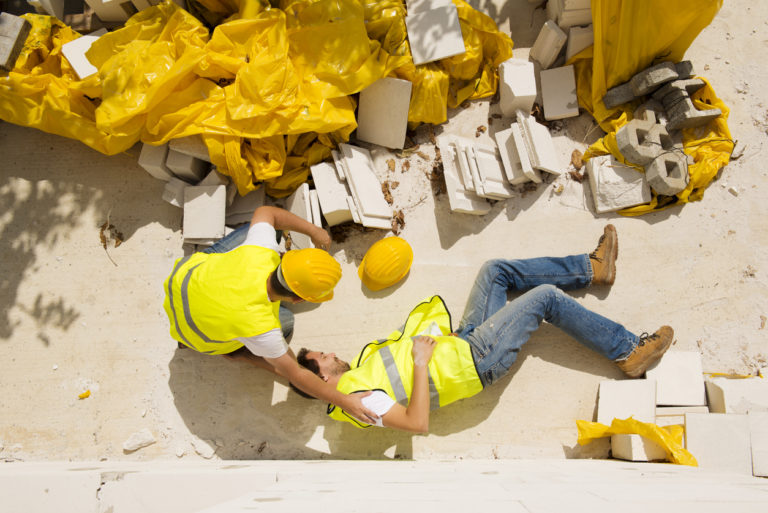 There's always a chance that you could get hurt on the job. Whether you were injured in a slip and fall at the office or fell from the scaffolding at a construction site, you deserve to be compensated for your workplace injuries.
You have enough to handle if you are seriously hurt at work. You shouldn't have to struggle to pay the bills while you're recovering. Unfortunately, many injured workers face challenges when they go to file a claim for workers' compensation. The workers' comp insurer may undervalue your benefits or minimize the severity of your injuries.
Let our experienced Boston personal injury lawyers help your claim. We have more than 100 years of combined experience helping injury victims recover compensation after workplace accidents in Boston, Massachusetts. Our Boston workplace accident attorneys have been recognized as "Super Lawyers," "Rising Stars," "Top 40 under 40," and "Top 100 Trial Lawyers," to name a few. We won't rest until we recover the compensation you need after your accident.
At Sweeney Merrigan Law, LLP, our lawyers have the resources to:
Conduct a detailed investigation into your work accident
Establish liability and demand fair compensation from every possible source
Assess the fair value of your personal injury claim
Handle any challenges to your workers' comp claim
Negotiate with the insurance companies to maximize your overall financial award
With our experience in your corner, you can rest assured that you're getting the full compensation you deserve. We represent clients across the Boston metro area. Contact us today for legal help if you were hurt on the job.
How Common Are Workplace Accidents in Boston?
According to the U.S. Bureau of Labor Statistics, 5,333 workers lost their lives in fatal accidents in 2019. That's one worker fatality every 99 minutes. Over 1,000 of those fatalities occurred in construction accidents.
In Massachusetts, approximately 67 workers die on the job each year. In one recent year, Massachusetts workers reported 73,300 work-related injuries and illnesses.
At Sweeney Merrigan Law, LLP, we handle all types of work accident claims in Boston, including those involving:
Construction accidents
Falls from scaffolding, ladders and roofs
Slip and falls
Exposure to toxic substances
Motor vehicle accidents
Unsafe work equipment
Trenching accidents
Welding accidents
Electrocution
Burns
And more
Workers are hurt on the job every day in Boston. If you're interested in learning more about available benefits and compensation, call our Boston workplace accident attorneys for a free case review today.
What Types of Damages Are Available to Workplace Accident Victims?
Workplace accident victims have two primary options for recovering compensation: workers' compensation and a personal injury lawsuit.
Workers' Compensation
You're eligible to make a workers' compensation claim if:
You were injured or contracted an illness on the job
You were an employee 
Injured workers are entitled to the following types of damages:
Reasonable medical expenses
Temporary total disability benefits
Temporary partial disability benefits
Permanent disability benefits
Damages for scarring, disfigurement, or permanent loss of a bodily function
Vocational rehabilitation
Death benefits
Workers' compensation provides wage replacement benefits if you're unable to work for at least six days after a work-related injury or illness. Those days don't have to be consecutive. 
You may also be entitled to partial disability benefits if you're unable to earn as much as you did prior to the accident.
Personal Injury Lawsuit
Massachusetts workers' compensation laws prohibit employees from suing employers for work injuries; that's what workers' compensation is for. However, you can file a lawsuit against a negligent third party.
For example, if you were injured in a motor vehicle accident while performing work duties, you could sue the at-fault driver for damages. Negligent third parties may also include property owners, third-party vendors, and manufacturers of defective equipment.
State personal injury laws divide compensatory damages into two categories: economic damages and non-economic damages.
Past and future medical bills
100% of your lost wages
Lost future earning capacity
Physical therapy
Rehabilitative care
Medications and medical devices
Pain and suffering
Mental anguish
Disfigurement and scarring
Anxiety, depression, and PTSD
Loss of enjoyment of life
Damages for wrongful death of a loved one
Massachusetts workers' compensation offers important benefits. State personal injury laws can provide additional compensation–especially if you were seriously hurt. 
A Boston work accident lawyer at Sweeney Merrigan Law, LLP can evaluate your case to make sure you're getting everything you deserve. Just give us a call today to schedule a free consultation.
What is My Boston Workplace Accident Case Worth?
To calculate the value of your work accident case, our attorneys must evaluate whether you will claim workers' compensation benefits or file a personal injury lawsuit.
What is My Boston Workers' Compensation Claim Worth?
Most employers in Boston are required to carry workers' compensation insurance. Workers' compensation provides limited benefits for work-related injuries and illnesses. The overall value of your benefits will depend on the length of your disability and your wages prior to the accident.
These temporary disability benefits equal 60% of your average weekly wages over the prior 52-week period. Benefits for high earners may be limited, however. Your wage replacement benefits are capped by the state's average weekly wage amount at the time of your accident.
Further, you can only receive temporary disability benefits for 156 weeks or until you reach maximum medical improvement. After that point, permanent disability benefits may be available.
How Much is My Personal Injury Case Worth?
Injured workers are often entitled to recover additional compensation by filing a lawsuit against a negligent third party. The value of a personal injury lawsuit can vary from case to case.
Some of the most important factors in calculating the value of your claim include:
The severity of your illness
Whether you'll suffer a permanent disability
The nature and cost of your medical care
Your overall physical pain and suffering
The impact of the injury on your quality of life
Can I Recover Damages If I'm Being Blamed for a Workplace Accident in Massachusetts?
Massachusetts follows a no-fault workers' compensation law. You can file a claim for benefits even if you're fully responsible for the work accident.
Third-party claims are more complex. The modified comparative negligence laws in Massachusetts limit your ability to recover compensation if you're blamed for an accident. 
However, you can recover compensation as long as you were less than 51% responsible. In other words, you can recover damages as long as you aren't mostly to blame for getting hurt.
We'll Fight to Recover Compensation for All of Your Workplace Accident Injuries
When work accidents happen, workers can suffer a range of life-changing injuries. 
Some common workplace accident injuries include:
Burns
Back injuries
Broken bones
Traumatic brain injuries
Spinal cord injuries
Crush injuries
Concussions
Organ damage
Eye injuries
Hearing loss
Respiratory illnesses
Amputations 
Paralysis
Some injuries can be catastrophic or fatal. You deserve to be fully compensated for your injuries. If you were injured on the job, you can contact our lawyers in Boston by submitting a contact form, sending a text message, making a phone call, or leaving a voicemail.
Am I Required to Prove Negligence After a Workplace Accident in Massachusetts? 
No. Injured workers can recover workers' comp regardless of fault. Despite this, you shouldn't make the mistake of believing that it's not important to find out what caused your injuries. To find out whether you're entitled to additional benefits, you have to identify all negligent parties. 
If you can prove that a third party was negligent, you could be entitled to both workers' compensation and damages in a personal injury lawsuit.
Negligence is a legal concept. Generally, someone is negligent when they fail to exercise reasonable caution under the circumstances. You could be entitled to damages if a third party:
Owed you a legal duty of care
Breached that duty
Caused your accident
Caused you to sustain damages
Don't settle for less than you deserve. You can take the next step by calling our experienced workplace accident attorneys to create an attorney client relationship today.
How Long Do I Have to File a Lawsuit After a Workplace Accident in Massachusetts?
To claim workers' comp, you have 30 days after your accident to file Form 110 and notify your employer about your injuries.
You have three years to file a personal injury lawsuit. Missing the deadline has serious consequences. You could lose your right to compensation entirely.
Were you or a loved one injured at work? Our lawyers are here to offer the legal advice you need and deserve.
If you were hurt on the job, you can count on our lawyers at Sweeney Merrigan Law, LLP, to protect you. Call a Boston workplace accidents lawyer today to schedule your 100% free consultation.