Boston Welding Accident Lawyer
Have you been injured in a welding accident in Boston, MA? Are you wondering whether you can recover compensation for your injuries, lost income, and other damages? If so, the Boston welding accident lawyers of Sweeney Merrigan Law, LLP, can help.
We understand the financial hardship caused when a person is injured in an accident. Our legal team fights to get you the money you deserve as quickly as possible so that you can continue to heal and recover.
Put our 100 years of combined legal experience to work for you. Call our office at (617)-391-9001 to schedule a free consultation with one of our Boston construction accident lawyers. 
How Our Boston Personal Injury Lawyers Can Help if You've Been Injured Because of a Welding Accident
Being injured in an accident can be an overwhelming experience. How are you going to pay your bills? Who pays for your medical treatment?
Having an experienced Boston personal injury attorney handling your case can reduce your stress and anxiety.
Your lawyer handles all aspects of your case. You can focus on what is important – your health and your family.
When you hire our legal team, you can expect us to:
Answer your questions about a welding accident claim 
Conduct an exhaustive accident investigation
Analyze your case and provide an honest assessment of your claim
Identify the party or parties liable for your damages
Document damages and gather evidence proving fault
Handle all negotiations with the insurance company
File a personal injury lawsuit, if necessary to protect your best interests
Our Boston personal injury attorneys are passionate about fighting for the rights of accident victims. We aggressively pursue all causes of action to maximize your recovery for an accident case. Our legal team has recovered numerous multi-million dollar awards for clients. 
Get the help you need from attorneys who have dedicated 100 combined years to fighting for accident victims and their families. 
Reach out to our law office now to schedule your free consultation with a Boston welding accident lawyer. 
How Common are Welding Accidents?
Welding is a challenging trade that requires substantial training to master. Unfortunately, many trained welders sustain injuries each year, even though they diligently follow safety procedures.
Overview of Welding Accidents
Welding joins two pieces of metal using intense heat to liquefy the medal. Because of dangerous levels of heat, welding can be a very dangerous job. Welders are exposed to ultraviolet radiation, metal fumes, and intense heat.
Whether on a construction site or a welding shop, welding work can be challenging and dangerous.
What Causes Welding Accidents?
Welders must exercise a high level of care to avoid injuries from welding accidents.
A variety of circumstances can lead to a welding accident. 
Some factors that might contribute to a welding injury include:
Keeping chemicals or volatile equipment near areas where welding is taking place
Failing to use safety equipment while welding
Using defective equipment or materials
Inadequate training 
Failing to follow safety protocols and procedures
Constant exposure to contaminants and fumes
Explosions and fires caused by sparks or extreme heat
Electric shock from voltage between two metal parts or form a secondary electric circuit
Excessive noise levels above 85 decibels
Exposure to hot metal and sparks
Employees and employers must take precautions to avoid welding accidents and exposure to dangerous and hazardous conditions while welding. 
Common Welding Accident Injuries
The dangers and hazards faced by welders can result in life-threatening injuries and conditions.
Welding accidents can cause permanent impairments and disabilities. 
Common welding injuries include, but are not limited to:
Severe burns that can result in infections, scarring, and disfigurement
Vision loss, eye damage, and blindness
Hearing loss and deafness
Nerve damage
Injuries from infrared radiation exposure
Lung cancer, pneumonia, Hodgkin's disease, emphysema, and neurological disorders from exposure to fumes
Traumatic brain injury
Musculoskeletal injuries
Electric shocks and electrocutions 
Lacerations and skin injuries other than burns
Some welding injuries can be treated for a full recovery. However, there are some cases in which a welder sustains permanent impairments or disabilities. In the most severe cases, a welder may sustain life-threatening injuries that result in wrongful death. 
Who is Liable for Damages Caused by Welding Accidents?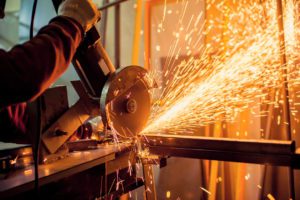 If the welding injury occurred on the job, the welder's injuries might be covered by workers' compensation insurance. However, a welder may also have a third-party claim regarding a welding injury.
For example, if the welding equipment was defective, the welder might have a product liability claim against the manufacturer.
If a dangerous or hazardous condition existed on the property that caused the welding accident, the welder might have a premises liability claim against the property owner. 
Identifying each of the parties and causes of action that could result in compensation for your damages is a crucial step in the personal injury claims process. 
Damages from a welding accident could be substantial. The medical bills and lost wages could total hundreds of thousands of dollars before you include compensation for pain and suffering damages. 
Our Boston workplace accident lawyers do not stop investigating and fighting for your rights until we exhaust all avenues of compensation for your welding injury case. 
Schedule a Free Consultation With Our Boston Welding Accident Lawyers
Having a law firm with the resources, skills, experience, and time to investigate and pursue an injury claim working for you evens the playing field. Do not fight a large corporation, aggressive insurance company, or the workers' compensation carrier alone. Let us take up the fight for you so that you can focus on healing. 
Call Sweeney Merrigan Law, LLP today to schedule your free consultation with a Boston welding accident attorney.