Boston Birth Injury Lawyer
If your child was hurt at birth because of medical negligence, you may have a claim for compensation. At Sweeney Merrigan Law, LLP, an experienced Boston birth injury lawyer can help you recover money to cover medical bills, rehabilitation, lost wages, and more. 
Our goal is to get your family the maximum available compensation. If you're ready to learn more, call our law offices at (617)-391-9001 to schedule a free consultation today. 
How Our Boston Personal Injury Lawyers Can Help With Your Birth Injury Case
Your child was hurt because someone on your medical team was careless. No amount of money can ever take that away. Getting fair compensation from the people who caused your child's injuries can help you out when it comes to paying for the quality medical care your child deserves.
You're entitled to hold the negligent parties who caused your injuries accountable. Unfortunately, it isn't always easy to get the money your family needs. Medical malpractice laws in Massachusetts are written more to favor hospitals and insurance companies than injured victims like you and your child.
And don't expect the hospital and insurance companies to simply hand over the money you demand. They'll fight you every step of the way–with the hope that you'll simply back down and accept less than you deserve. An experienced Boston personal injury lawyer can give you a much stronger chance of recovering the full amount you deserve.
At Sweeney Merrigan Law, LLP, our attorneys have over 100 years of combined experience navigating the complex legal system in Boston. When you give us the opportunity to help your family, you can expect our lawyers to:
Provide support and information to your family throughout the entire legal process
Hunt down the proof you need to show that your child's injuries were caused by someone else's negligent care
Investigate the exact birth injury your child has suffered to provide information on who is likely responsible
Hire respected experts to testify as to the validity of your medical malpractice claim
Handle negotiations with the insurance companies and defense lawyers
Prepare to take your case to court if necessary
The insurance company doesn't want you to hire a lawyer. They'd much rather negotiate with you directly. After all, what are the odds that you'll have a strong sense of how much money you deserve because of the birth trauma? Our lawyers know what it takes to go head-to-head with insurance companies and hospitals who are invested in paying less than you deserve.
Are you ready to learn more about how a skilled lawyer can protect your financial future? Call today to schedule a free case review. Getting legal advice is 100% free and you have no obligation to hire us.
What is a Birth Injury?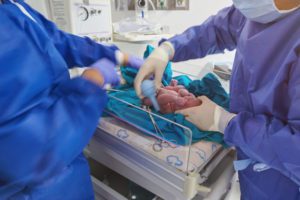 A birth injury is any type of injury that happens during the birthing process. Out of every 1,000 births in the United States, six to eight babies are born with some type of birth injury.
Some birth injuries are simply caused by the trauma of being born. Others are caused by a doctor, nurse, or healthcare provider's negligence.
Doctors, nurses, and others on your medical team have any number of ways to identify and treat issues and risk factors that might lead to injury. These professionals are held to a certain standard of care in providing treatment.
That's called the medical standard of care. Generally, health care providers are required to provide care using the skill, experience, and knowledge that someone with their training and skill reasonably would provide. To find out whether your doctor was negligent, we'll ask whether another doctor with the same expertise would have made the same mistake under the circumstances.
Compensation is Available If Your Child's Birth Injuries Were Caused by Medical Negligence
Getting fair compensation can be tricky in a birth injury case. Your family is entitled to compensation for your past and current expenses. You're also entitled to compensation to cover the costs of your future needs.
These types of damages are called economic damages. However, they can be tricky to value. After all, how can you estimate what your child is going to need over the course of a lifetime? That's why our team at Sweeney Merrigan Law, LLP will bring in experts and specialists who have experience putting a fair dollar value on these costs.
These experts help us get a strong sense of your child's injuries and the extent of future care that will be required. Expert opinion is also evidence that insurance companies take seriously–and will greatly strengthen your injury claim during settlement talks.
For example, your family may be entitled to compensation for:
Medical bills
Future medical expenses
Physical therapy
Rehabilitative care
Long-term care
Medications
Medical devices
Lost future earning potential and job opportunities
Vocational training
Special education
In-home care
And more
Birth injuries also take an extreme emotional toll on the family. Negligent medical providers are also responsible for that psychological damage. 
That means you may be entitled to compensation for:
Pain and suffering
Mental anguish
Diminished quality of life
Anxiety and depression
PTSD
Embarrassment
Loss of companionship
However, Massachusetts law generally caps non-economic damages at $500,000 in medical malpractice cases. Exceptions do exist if we can show that the injuries involved substantial impairment or permanent loss of a bodily function–and that the $500,000 cap would deprive you of just compensation.
If your child's injuries were serious, getting financial compensation can be the only way to protect their future. Your child deserves the best care available. Our lawyers can't change the past, but we are dedicated to getting justice for your family. Just give us a call today to learn more about how we'll fight to win every penny your family deserves.
What Caused My Baby's Birth Injury?
Any number of things can go wrong in the course of any line of medical care. It's the responsibility of your doctors, nurses and other medical professionals to do everything they can to prevent harm. That's why these health care professionals complete such rigorous training prior to working with patients.
Unfortunately, doctors and nurses aren't always as careful as they should be. When someone on your team makes a mistake, the results can be serious and even cause brain damage. 
Some of the most common causes of birth injuries here in Boston include:
Failure to properly monitor the mother and fetus during labor and delivery
Failure to monitor during pregnancy to identify any risk factors
Failure to perform a C-Section when appropriate
Improper use of delivery assistance devices, like forceps and vacuum extractors
Oxygen deprivation
Uterine rupture
Failure to notice signs of fetal distress
Medication errors during labor and delivery
Your family may be suffering because of someone else's mistake. Why should you have to bear the financial burden in addition to the physical and emotional toll? At Sweeney Merrigan Law, LLP, our medical malpractice attorneys will find out what caused your child's injuries. We'll use that information to hold the negligent medical professionals fully accountable.
Who Is Held Liable for Birth Trauma?
Who Is Held Liable for Birth Trauma
If your child suffered a birth injury as a result of medical negligence, you have the legal right to file a medical malpractice claim. Filing a medical malpractice claim allows you to pursue fair compensation for the economic and non-economic losses you have suffered as a result of the liable party's negligent actions. 
Medical malpractice claims are not as simple as they may seem. This is due to the laws that are in place in Massachusetts to protect doctors, surgeons, and other medical professionals. To help you better pursue the damages you are owed and to identify who should be held liable for your child's birth trauma, contact our team of trusted birth injury lawyers in Boston. The most common parties that may be held liable for birth trauma include:
The Attending Physician
The first person that most people will automatically assume is at fault after a birth injury is the attending physician. While this is not always the case, it is common that the doctor who was overseeing the delivery of the child is to blame when your baby suffers trauma. To prove that the attending physician is liable for your child's trauma, you must prove:
The doctor had a duty of care to the patient
The doctor failed to uphold that duty of care
The patient or the child of the patient suffered an injury or trauma due to the doctor's failure to uphold the duty of care
The patient or patient's child suffered damages as a result of the injuries they incurred
The key is that the birth trauma must be attributed to the actions of the doctor specifically. If not, other medical staff may be liable.
Medical Staff
Although doctors are often the individuals in charge of or overseeing a birth, there are other medical staff members that take part in the delivery of a child. These medical staff members may include:
Nurses
Physician's assistants
Other medical staff
Every member of a medical team who was present during the birth when the trauma or injury occurred could potentially be held liable. Our birth trauma attorneys will conduct a full investigation of every individual present when the injury occurred so that we may better understand which parties should be held responsible. 
The Medical Facility
In some cases when evidence proves that the attending physician or another member of the medical staff that assisted with the birth is liable for birth trauma, the medical facility where the birth took place may also be responsible through vicarious liability. Vicarious liability is the type of liability that an employer bears for the negligent actions of their employers based on the relationship between both parties. 
We Handle All Types of Birth Injury Cases in Boston, MA
Some birth injuries can last a lifetime. However, any type of injury occurring at birth can be extremely traumatizing, both for you and your child. Our lawyers at Sweeney Merrigan Law, LLP will fight to get compensation for all of your child's injuries.
Some common birth injuries include:
Cerebral palsy
Fractures
Hypoxia (oxygen deprivation)
Brachial plexus injuries
Erb's palsy
Cephalohematoma
Hemorrhaging 
Spinal cord injuries and spinal bifida
Many of these injuries are completely avoidable if you have received quality medical care. They're often caused by outright negligence. If your child was injured at birth because of someone else's negligence, you may be entitled to compensation.
What's the Statute of Limitations For Massachusetts Birth Injury Cases?
The statute of limitations for medical malpractice claims is three years under Massachusetts state law.
Note that medical malpractice cases can take a lot of time to build. We'll have to get proof to show that your child's injuries were caused by negligence. The law also provides specific procedures that must be followed to bring a valid lawsuit for medical negligence. 
The sooner we can get started, the better the results are likely to be. If you wait too long, you risk losing your right to compensation. Your family has suffered enough. Call an attorney at Sweeney Merrigan Law, LLP today to make sure you don't lose your right to hold the negligent parties accountable.
Call an Experienced Boston Birth Injury Lawyer to Get the Help Your Family Deserves
Has your child suffered a birth injury? Do you suspect it was caused by medical negligence? You don't have to deal with this alone. Call an experienced Boston birth injury lawyer at Sweeney Merrigan Law, LLP for help today.
Our attorneys know you have a lot going on. We'll handle every aspect of your case so you can focus on your family. All you have to do is contact our law firm to arrange your free consultation to get started.